Hokulani Golf Villas For Sale
Hokulani Golf Villas For Sale
$2,150,000 - 2 Beds, 2.00 Baths, 1,883 Sf
MLS® # 399716
Fee Simple
Keller Williams Realty Maui-Ka
$2,150,000 - 2 Beds, 2.00 Baths, 1,898 Sf
MLS® # 399240
Fee Simple
Hawaii Life (W)
$2,495,000 - 4 Beds, 3.00 Baths, 2,548 Sf
MLS® # 398034
Fee Simple
Hawaii Life (W)
Looking for Wailea living at more affordable prices? Then check out Hokulani Golf Villas. Set amidst 40 acres on the Maui Nui Golf Club (formerly known as the Elleair Maui Golf Club), this community is redefining luxury condominium living with the privacy of a single-family residence. There are a total of 152 homes, which range in size from 2 bedroom / 2 bathroom (1,832 square feet) to 4 bedroom / 3 bathroom (2,516 square feet). Amenities include gated entry, a 66 foot infinity pool, a clubhouse, and 5 acres of interior parkland, making Hokulani Golf Villas one of the most sought-after communities in the Kihei real estate market. As a rare feature among similar properties, Hokulani Golf Villas allows 2 pets per unit, with no size restriction - click on Hokulani Golf Villas Pet Policy to learn more (not guaranteed, contact us to confirm it's latest version).
A short drive away, residents can enjoy world-class cuisine at any of the area five-star restaurants, the newly built Maui Brewing Company directly next door, the recently opened industry hangout, Cow Pig Bun restaurant, partake in near by water-activities at the top-rated beaches in Kihei and Wailea/Makena, a plethora of shopping opportunities at the Shops at Wailea, and much more. Peruse some of the luxury Hokulani Golf Villas for sale, compare to available Kihei homes for sale and contact us for more information. In Wailea, some comparable properties would include Kai Malu, Kanani Wailea, Wailea Fairway Villas, Wailea Ekolu, and the new built Keala O Wailea.

As of this writing in the summer of 2018, there are still a handful of developer units for sale, which may present a strong value proposition amidst a number of resales. Thinking of purchasing? Let us know, we can assist in determining which unit within Hokulani Golf Villas is the one that best meet your objectives, in terms of floor plan and location within the property, and how best to negotiate the best terms/conditions in its purchase.

For more information regarding available inventory and/or future phases of this project, contact us at 808.385.5034 or by filling out the form below.
Hokulani Golf Villas Map
Take a look at the most detailed map available by viewing our
Hokulani Golf Villas Map
PDF or for quick reference, view the image below. This map is based on property map originally released by the developer's team, satellite imagery, and first-hand observation of the property. It is for illustrative purposes only, to demonstrate a unit's location relative to the rest of the property. It is not guaranteed to be drawn to scale.
Hokulani Golf Villas Floor Plans
The floor plans below are for illustrative purposes, not drawn to scale or guaranteed. Some owners may have done changes that significantly impact a unit's current layout, to discuss a particular unit contact us.
HGV Statistics
View the below for a purview of the real estate market in the Hokulani Golf Villas. Keeping in mind that sales must be taken into proper context (i.e. distressed sale, larger floor plans selling, etc.), contact us to discuss.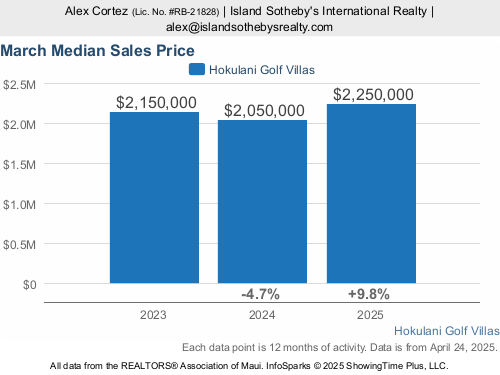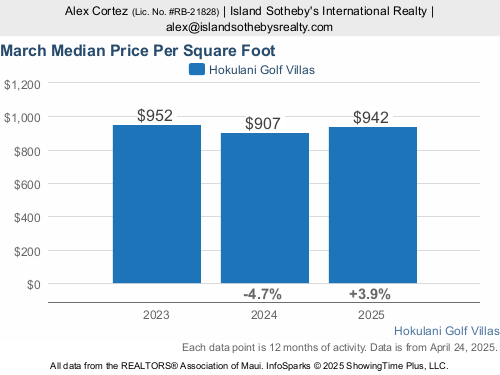 Contact
For those thinking of purchasing or selling a Hokulani Golf Villa, contact us - we know the high-end sector of the Kihei real estate market and would be happy to discuss HGV in further detail.
Recent Sales at Hokulani Golf Villas
For those interested in Hokulani Golf Villas, other properties that may be of interest include:
Ke Alii Ocean Villas
Kai Malu
Keala O Wailea
Kai Ani Village

And below navigate to all condominiums nearby, in the South Kihei area. Contact us for details and/or information.
Popular South Kihei Condos Nearby
IDX information is provided exclusively for consumers' personal, non-commercial use and may not be used for any purpose other than to identify prospective properties consumers may be interested in purchasing.