Menehune Shores Condos For Sale
Menehune Shores Condos For Sale
Virtual Tour
Vacation Rental
$1,349,000 - 2 Beds, 2.00 Baths, 885 Sf
MLS® # 398347
Menehune Shores has a long-standing reputation among its owners and repeat visitors as a strong value in the Kihei condo market. With an oceanfront location, serene setting, and simply unbelievable views, it's hard to argue with that. Built in 1976 and located at 760 South Kihei Road, it encompasses 154 units - 23 one bedroom, 107 two bedrooms, and 23 three bedroom units (which virtually NEVER come on the market). Amenities include the roof-top deck, barbecue areas, parking, and waterfront, solar heated pool. The rooftop deck has a full-size kitchen and restrooms, providing the perfect setting to enjoy a Maui sunset with friends and family. It also serves as a perfect viewing platform during whale season. Also on site is a popular Indian restaurant. Maintenance fees cover trash, sewer, water, insurance, reserves, basic cable, and maintenance/repair of common areas. In 2017, a solar photo-voltaic (PV) system was installed to curb costs for electricity of common elements and maintain a more self-sustainable footprint.

On selected floors, near the elevators there is a common storage area for all owners, in addition to individual owner storage. View the Menehune Shores House Rules (abbreviated) for more information about staying at this property and view the Complete Menehune Shores House Rules to become more familiar with the property as a whole - keep in mind, these are for informational purposes only, to guarantee that it is the latest amended versions, contact us.
Electricity is sub-metered by the HOA, basic cable is included in the HOA fees (upgraded packages available from vendor) and wifi is available to be paid directly to the HOA, who had a bulk purchase agreement from the vendor. Accurate as of this writing in mid 2017, contact us for details.
Menehune Shores Map & Floor Plans
For illustrative purposes, below please find a property map of Menehune Shores and applicable floor plans - not drawn to scale or guaranteed. One bedroom units are found on the following stacks: 11, 12, 16, and 17. Three bedroom units are on the 10, 14, 15, and 18. All others are 2 bedrooms, with exception of 109 and 110, which are configured as a restaurant. As can be noted, there is not a '13' on the building. For more information and to discuss further, contact us.

Menehune Shores Statistics


Below please find pertinent real estate stats for Menehune Shores - to discuss valuation in greater detail and better understand micro-market conditions, contact us.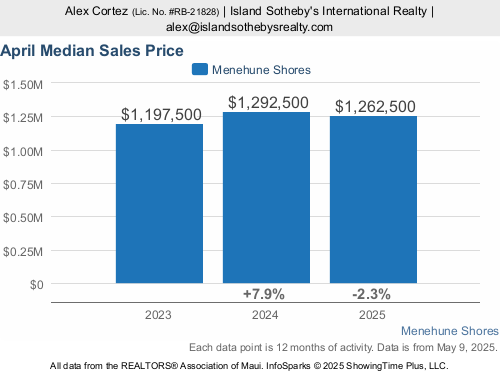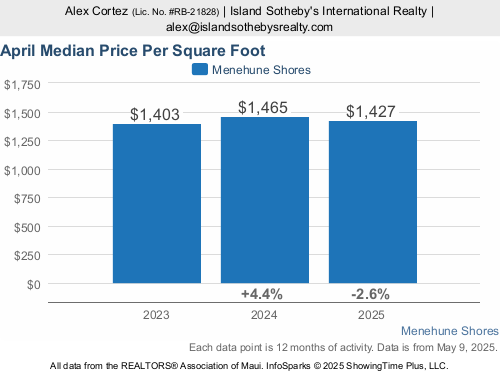 Contact
Interested in purchasing or selling a Menehune Shores condominium? We KNOW Menehune Shores, its value proposition within the overall Kihei condo market and would be glad to answer any questions, offer a complimentary CMA, and discuss market conditions.
Recent Sales at Menehune Shores
Popula Kihei Condos Nearby For Sale
IDX information is provided exclusively for consumers' personal, non-commercial use and may not be used for any purpose other than to identify prospective properties consumers may be interested in purchasing.