Luana Kai Market Update August 2018
Posted by Alex Cortez R(B) on Thursday, August 16th, 2018 at 5:29pm.
With miles of some of the most beautiful beaches in the world, the Kihei coastline is home to some of the best oceanfront /
beachfront Maui real estate
. On today's post, we'd like to discuss the
Luana Kai
condo market. Located in North Kihei, Luana Kai has convenient access to the rest of Kihei while having a comfortable commute to West Maui and Central, with all the amenities waiting therein. Onsite, guests, residents and owners enjoy access to the pool and cabana area, one of Kihei's best, as well as easy access to the public tennis courts directly out front. The property is fronted by a large area of conservation land owned by the County, which in essence acts as a buffer between the property and the beach - the added benefit of not being directly beachfront while having well-maintained land (with tennis courts) at no direct cost.
To start, let's look at a summary Comparative Market Analysis, taking into account current inventory, units in escrow, and recent sales (defined as trailing 12 months from the publish date of this post). The first thing that stands out is the listing price of units actively on the market at nearly $800 per square foot, when recent sales have been in the low $600's per square foot. Of course, it's worth noting that both B-304 and C-306 are in outstanding condition, it will be interesting to see how the market reacts.
Now let's take a look at the recent sales as plotted on a map of Luana Kai - the floor plate on the third floor differs from those on the lower levels, hence reflected below.
Click here
to view as a PDF, much easier to view.
As can be clearly ascertained by reviewing the map above, buildings A and D sell for a premium over those on B and C, which is very understandable based on orientation and resulting view corridors. So with that, let's look at a breakdown of price per square foot, differentiating the more desirable buildings (A and D) from the others (B and C).
Now to break down the median sales price, segmented by unit size and then follow it by reviewing the median price per square foot. The 3 bedroom niche is most limited by inventory and there have been large periods of time in between sales, so the correlations between 1 bedroom and 2 bedroom units are most reflected.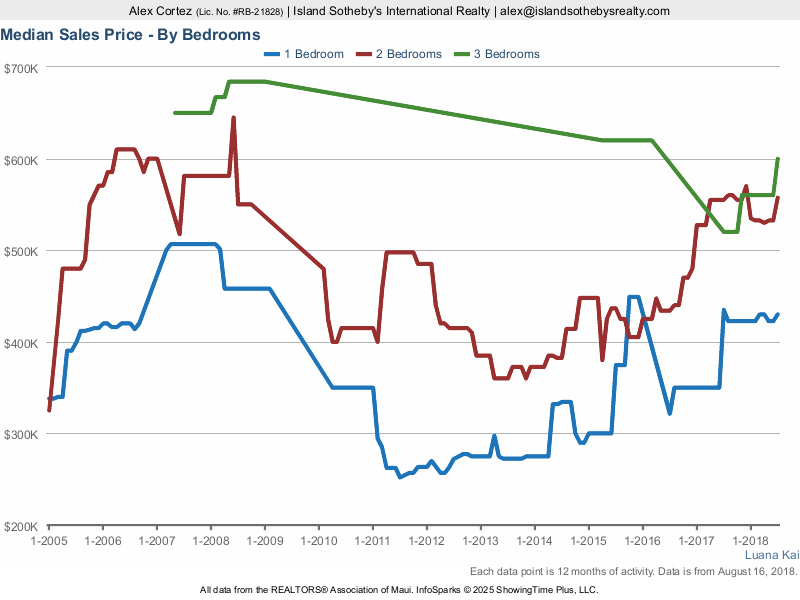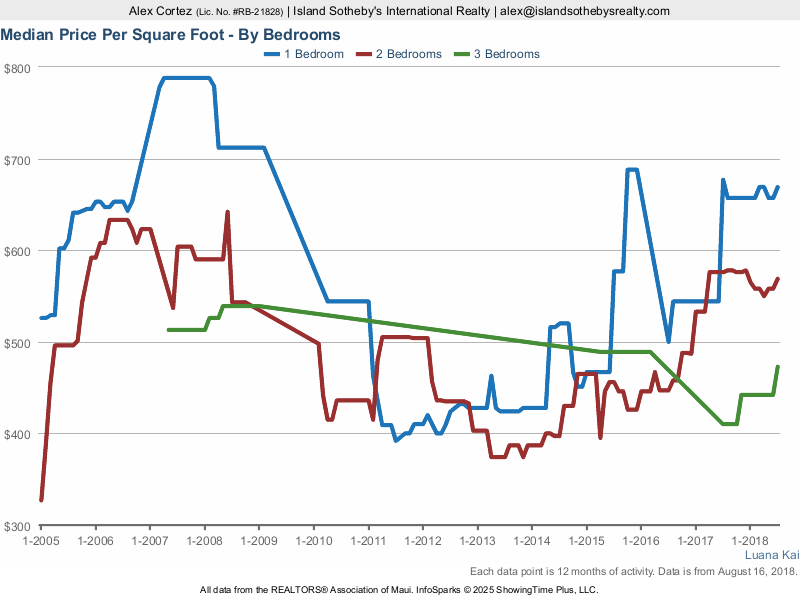 Conclusion
This is opinion-based, so take it as such. But based on the above, some conclusions can be drawn:
Buildings A and D have historically commanded a well significant premium over buildings A and B.
All micro-sectors are up, within the Luana Kai market.
The smaller the unit, the higher the price per square foot.
Prices have not reached 2007 levels.
Demand for premium units in upgraded conditions.
For those interested in exploring the Luana Kai micro-market and discussing its respective place within the overall Kihei condo market, contact us today.
Specializing in Makena and Wailea real estate, Alex Cortez is fully dedicated to representing his clients ethically and diligently. Contact him at 808.385.5034 or Alex@MauiRealEstateSearch.com for more information.
Leave a Comment