Honua Kai Market Review 2018
Posted by Alex Cortez R(B) on Saturday, January 26th, 2019 at 12:43pm.
Another year is on the books and one of our favorite properties,
Honua Kai
, had an outstanding year. The introduction of Luana Garden Villas to the market has been met with much anticipation and absorption has been phenomenal - with one more phase being released momentarily to be met with high demand. The construction at the Westin had stalled sales along the outside southern perimeter of Hokulani, yet with its completion now that side of the tower is among the most desired outside perimeter units - with an impeccable resort setting next door and now established view corridors, it's easy to see why there is such high interest.
To start a deeper, let's look at each micro-market.
Studios
As one of the most coveted niches within Honua Kai, it's not surprising that values for Studios have increased over the past few years, but what may be shocking is that there is virtually no inventory. Units are scarcely coming on the market and any upper level that come up for sale are pushing the envelope in terms of appreciation.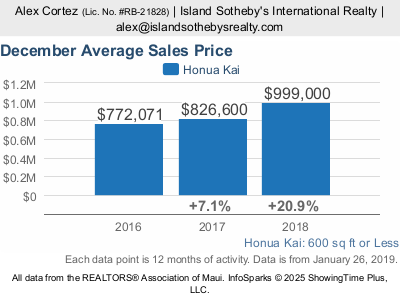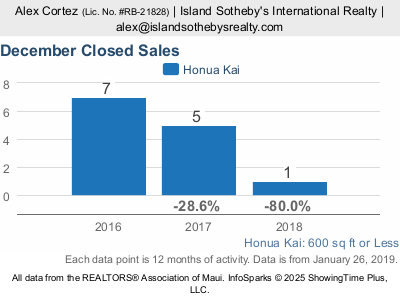 One Bedroom Condos
While the Studios are relatively easy to quantify, adjustments based on stack and floor level, the One Bedroom micro-market is much more difficult as the bulk of units do not have ocean views and many are mountain-facing (overlooking the parking lots and now the Luana construction for the Konea ones). With some of the premium units being sold in 2018, it's understandable that there was a significant increase in price, at 10% over the previous year. With Konea 638 and Hokulani 838 selling well above $1,300 per square foot, it's easier to understand the increase in values.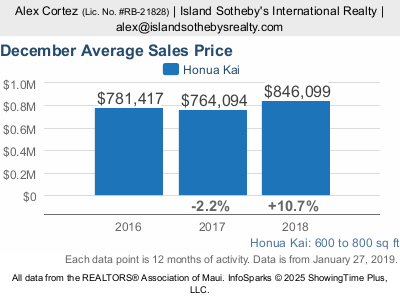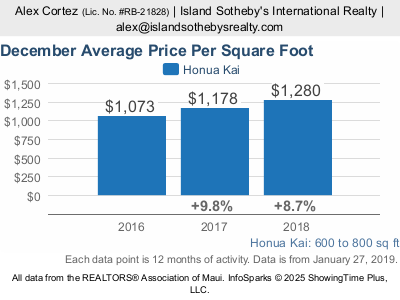 Of course an interesting 'niche' within the 1 bedroom micro-market is the more spacious 1 bedroom + den, which if taken within the overall one bedroom market skews perspective - with the larger units generally selling at a higher sales price BUT a lower price per square foot. Let's take a look at the chart below to compare 1 bedroom (in blue) versus 1 bedroom + den. Of the 16 one bedroom units that sold in 2018, 13 were straight one bedroom condos, while the other 3 had the floor plan with den.

Two Bedroom Condos
This is arguably THE most interesting at Honua Kai, as units can range from parking-lot facing condos on lower levels that are exposed to road noise and do not have sought-after views to premium high-floor units with amazing ocean views, privacy, and large lanais - or even the front-row '01' stack in the Konea tower, which are arguably some of the best two bedroom condos in all of Hawaii. The even number units are on the outside perimeter, while the odd number ones are on the inside of the horseshoe. Of the 17 two-bedroom sales in 2018, 8 were even-numbered, outside perimeter, while the other 9 were more premium interior units. The average price per square foot was $1,120 for the outside versus $1,511 for interior - a very pronounced difference, which to an extent was due to Konea 201 and 301 selling, each at over $1,800 per square foot.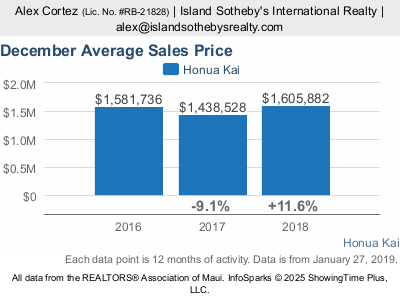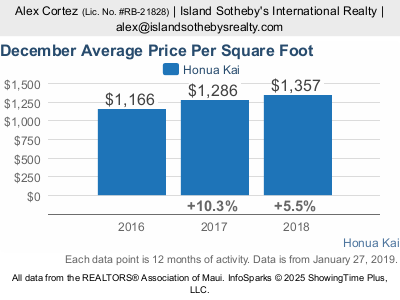 What will remain apparent, our team of Honua Kai experts are uniquely poised to establish valuation for the difficult-to-assess two bedroom micro-market.
Three Bedroom Condos
The showstoppers and trophy units at Honua Kai are the three-bedroom residences, with many of these being front row and enjoying among the best views in the
Kaanapali real estate
market. Let's take a look at the sales metric to see the direction of this niche.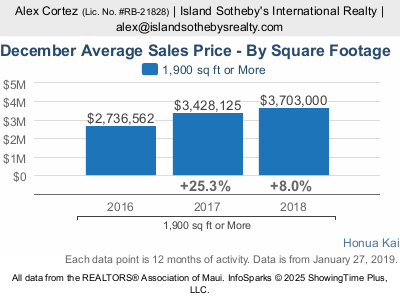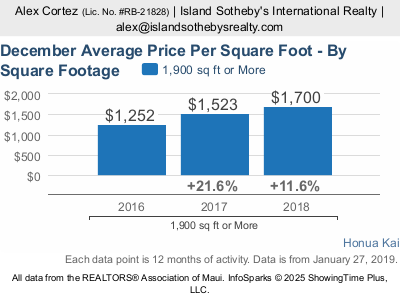 Keeping in mind that the unlisted sale of Hokulani 601 skews average - being a top floor, front row unit (no one above and only one front-row stack on this side of the tower), it commanded a premium at nearly $6M. For a deeper discussion regarding values of 3 bedroom condos at Honua Kai, contact our team.
Overall Honua Kai Real Estate
There are various metrics that can help us in gauging the state of the market. To start, price per square foot - following charts depict Studios in blue, one bedroom condos in red, two bedroom condos in green, and three bedroom residences in purple. The most surprising is the spike of the Studio price per square foot to now be highest - of course, take into account that it was one sale, so not necessarily reflective of what the open market will bear.

Let's follow with average sales price. Somewhat straight-forward and as expected.

Lastly, let's look at total number of sales per category. What sticks out most is the lack of sales of Studios, which is driven by lack of inventory, and the incremental incline of one bedroom sales - two components that have led to that is the increase in available inventory and that being the entry-level (price-wise), there are bound to be more prospective purchasers.


Conclusion
The Honua Kai real estate market continues as one of the strongest in all of Hawaii, particularly when compared to similar properties statewide. The introduction of Luana Garden Villas has been pivotal in bringing continued interest in the property and with sales slated to start closing later in 2019, we'll see further shifts in the micro-market. Although we hope that the above information provides insight as to how the Honua Kai property fared in 2018, to discuss in greater detail and for proper context, contact our team today.
All information is deemed reliable but not guaranteed. Contact us to confirm.
Specializing in Makena and Wailea real estate, Alex Cortez is fully dedicated to representing his clients ethically and diligently. Contact him at 808.385.5034 or Alex@MauiRealEstateSearch.com for more information.
Leave a Comment