Wailea Point Condos
Wailea Point Condos For Sale
$6,700,000 - 3 Beds, 4.00 Baths, 2,419 Sf
MLS® # 397254
Fee Simple
Hawaiian Style Realty LLC
Wailea Point - Redefining the Wailea Lifestyle - With Meticulously Landscaped Grounds,
World-Class Amenities, and an Enviable Location in the Wailea Resort Community.
For those looking into purchasing a Maui luxury condo, Wailea Point is a compelling choice. Twenty-six acres of tropical, utopia-like gardens are the setting for 129 premier Hawaii condominium units. Varying greatly in size, there will be an option for all: from 2 bedroom, 2 bath (1553-3172 square feet), to 2 bedroom, 3 bath (1743-2394 square feet), 3 bedroom, 2 bath (1359-2554 square feet), 3 bedroom, 3 bath (1732-2529 square feet), 3 bed, 3.5 bath (2394-3666 square feet), and two mansion-style 6 bedroom, 6 bath (4813-4848 square feet). Its unique location, directly between the 5 star resorts of Fours Seasons and Fairmont Kea Lani, make it a strong lifestyle value proposition for those looking for the privacy of a low-key gated condominium with the convenience of being walking distance to some of the best restaurants and facilities in all of Hawaii.
Directly oceanfront on Wailea Beach and next to Polo Beach, Wailea Point offers luxury amenities: Tennis courts, two pools with pavilions, barbecue areas, boat garages, a fitness center, and concierge services. All the comforts and conveniences of Wailea/Makena life are easily found, from golf in world-class courses, to five star dining, to exclusive shopping opportunities, it is the type of Maui life to satisfy the most discriminating resident and/or visitor.
Search for current Wailea Point condos for sale and contact us if you are ready for an exclusive tour of this and other premier Maui properties.
Highlights
Built in 1987
130 Luxury Units Throughout 34 Buildings
Atop 28 Acres of Prime Wailea Real Estate
Oceanfront Location with Access to Wailea Beach
Bordered by the Four Seasons and the Fairmont Kea Lani
Gated Entry for Privacy
Two Pool Areas
Tennis Courts
Fitness Center
Barbecue Areas Throughout
Concierge Services
Private Garages - Including 12 Boat Garages
Allows Short Term Rentals (minimum of 30 day rentals)
Pets are Allowed
Has Remained a Sought-After Luxury Property For Decades (even as other luxury properties sprout), such as the Montage Kapalua and Wailea Beach Villas
Has Extremely Loyal Base of Ownership
Very Strong and Committed AOAO, Fiscally Sound.
Resources
The following are for illustrative purposes only, NOT guaranteed to be latest version. Contact us to confirm.

Wailea Point Map - high-res PDF
Wailea Point Developer's Report
Wailea Point Map
View our high-resolution
Wailea Point Map
for the most accurate and detailed map of the property or for easier/quicker reference, see the image below.
To learn more, visit our Wailea Point page.
Wailea Point Floor Plans
Below are the original developer floor plans for all units at Wailea Point. However, a few owners have been fortunate enough to purchase side-by-side units and converted them into luxury residences.
Statistics
Below please find relevant statistics to the Kahana condo micro-market for the past three years (each being defined as trailing 12 months from previous month).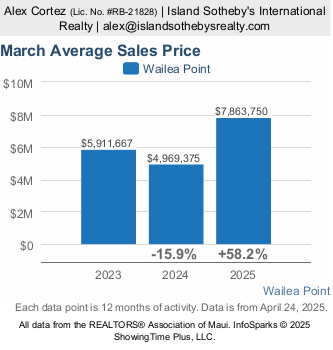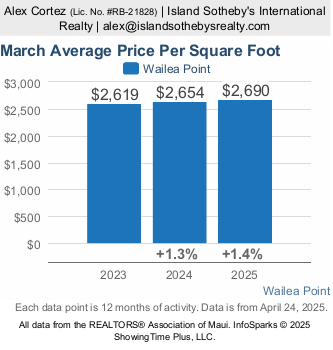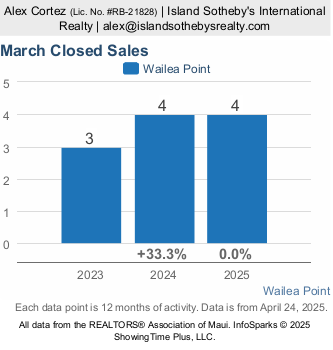 Contact
Are you interested in purchasing or selling a luxury unit at Wailea Point? Contact us. We know the property exceedingly well, have a pulse of the Wailea real estate market and the Maui luxury micro-market. We hold ourselves to a high level of integrity, dedication to our clients, and ethical business practices.
A good metric to the pulse of the market in terms of setting a Fair Market Value and establishing an absorption rate is looking at recent sales.
Wailea Point Recent Sales
$5,162,500 Sold Price - 2 Beds, 2.00 Baths, 1,558 Sf
MLS® # 397648
Fee Simple
Hawaii Life (W)
$5,775,000 Sold Price - 3 Beds, 2.50 Baths, 2,178 Sf
MLS® # 397532
Fee Simple
Maui Real Estate Advisors LLC
Wailea Condos For Sale
IDX information is provided exclusively for consumers' personal, non-commercial use and may not be used for any purpose other than to identify prospective properties consumers may be interested in purchasing.