Kapalua Golf Villas
Kapalua Golf Villas For Sale
Surrounded by the world-famous Kapalua Bay golf course, 16 acres of attentively-manicured west Maui prime real estate provide the perfect setting for life in paradise. The Kapalua Golf Villas are well-priced and range in size from 1 bed/ 1.5 bath (899-987 square feet), 1 bed/ 2 bath (972 square feet), to a lavish 2 bed/ 2 bath luxury units (a spacious 1350 square feet). Amenities to be enjoyed by residents and visitors include 3 magnificent pools, a recreation area, as well as golf privileges. For those seeking investment opportunities, this complex permits short-term vacation rentals - the perfect mixture of personal enjoyment and investment.
Being so centrally located on the west side, Kapalua Golf Villas owners enjoy a myriad of convenient comforts. Dining opportunities abound at the many fine restaurants in the area (Roy's in a personal favorite), golf is unparalleled and is world-famous for championship play, and shopping at Whaler's Village is among the finest in all of Hawaii just a short drive away. And for the beach goers, some of the best-reviewed beaches in the world are just around the corner. Review the KGV Home Improvement Guide for some perspective as to the property - however, NOT guaranteed, contact us to confirm most updated information.


Kapalua Golf Villas Map

For more information and/or to receive high-resolution floor plans of Kapalua Golf Villas, contact us. The map below is for illustrative purposes only in detailing relative location within the property, but not guaranteed to be drawn to scale. To understand unit location within the property, use this as a guideline:

Each condo is identified by a number, followed by a letter, then followed by digit or digits. As an example, 16P1&2. The first two digits in the condo number is for the building (11 through 27), the letter identifies the 'level', with P meaning Patio (garden level), T meaning Trellis (the middle level) and V meaning Vista (top floor, biggest views). The last digit represents the door number and in cases where a unit has two doors, then both doors are identified. The numbering of the doors is from left to right, when looking from the rear of the building. Using the example of 16P1&2, this unit is on building 16, in the Patio level and door numbers are 1 and 2, which are the first two from the left, when viewing the building from the rear.


Floor Plans
The below are based on those originally offered by the developer - it is possible that throughout the years, individual owners could have made changes that affect the layout of their respective units - for confirmation regarding a specific unit, contact us. For illustrative purposes only.


Statistics
For more information and to discuss valuation in Kapalua Golf Villas in greater detail, contact us. To discuss proper context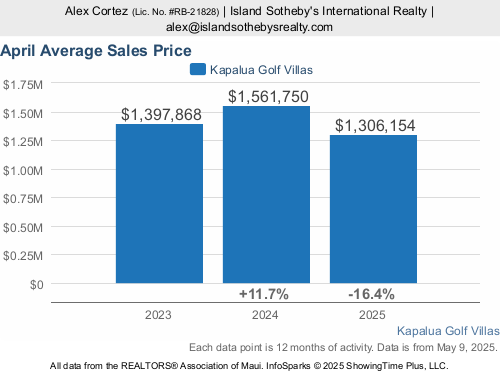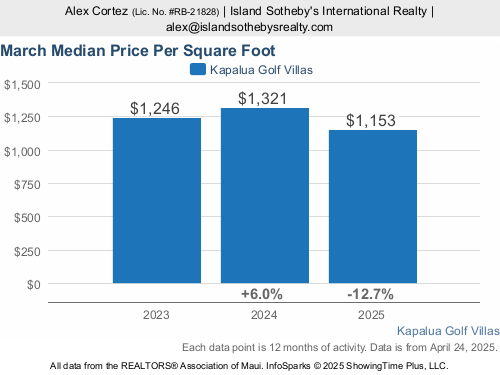 Contact Us
For those considering a purchase or sale of a Kapalua Golf Villa for sale, contact us below for more information. Our team includes leading Kapalua real estate experts who would be happy to discuss in more detail.
Recent Sales at Kapalua Golf Villas
Kapalua Condos For Sale
IDX information is provided exclusively for consumers' personal, non-commercial use and may not be used for any purpose other than to identify prospective properties consumers may be interested in purchasing.