Honua Kai Real Estate | Maui
Honua Kai Condos For Sale
Honua Kai Overview

The Honua Kai resort is comprised of two towers, the Hokulani and Konea and soon will be joined by the Luana Garden Villas. Condominiums range in size from a Studio, 1 bedroom, 2 bedroom condos, and 3 bedroom luxury villas, totaling 639 luxury Kaanapali condos. Search for luxury Maui condos at Honua Kai and contact us when you are ready to tour one of the world's best-planned premier resort and spas. For those searching for luxury resort-like living, it will not get better than west Maui's Honua Kai in Kaanapali. A true master-planned resort, it combines all the amenities of a world-class hotel with the prestige of property ownership, in a Fee Simple form which is not typical of waterfront properties in West Maui. Featuring 40 acres of lush tropical surrounding with one of the most beautiful, top-ranked beaches in the world as your front yard, North Ka'anapali Beach. Luxury amenities abound, such as multiple pools (including a lazy river pool) conveniently located throughout the resort, multiple jacuzzis, outdoor state-of-the-art barbecues, a fitness center, a spa, Maui concierge services, a deli, a popular restaurant (Duke's), and most importantly, a life of luxury in one of the premier locations in the world. Check the Konea and Hokulani PDF files for the most complete site map and floor plans of every unit available at Honua Kai. Update: For those searching for developer sales, please be advised that of this writing in early 2019, a few developer sales remain at the Luana Garden Villas enclave, contact us to confirm available inventory.
Highlights
Beachfront location on world-class beach - Kaanapali Beach.
Luxury amenities, including series of pools, a spa, hotel-style lobby, etc.
On-site critically acclaimed restaurant, Duke's.
On-site gourmet convenience store, Aina Gourmet Market in the Hokulani tower and convenience store in the Konea tower.
Various floor plans, sure to meet the needs of most buyers across multiple price ranges and size needs.
Fee Simple ownership.
Allows short-term rentals, reputation as one of strongest rental revenue generators in Hawaii.
Well managed by hands-on HOA leadership.
High quality finishes, sure to please the most discerning buyer.
Hotel-level services, including valet parking, bell service, concierge services.
Family "Fun Club" and kids' program.
Infinity koi pond - daily feeding open to the public.
Outdoor barbecue areas.
Near Whalers Villages, with its shops, restaurants, bars, etc.
Floorplans
Honua Kai consists of two towers, Hokulani on the south and Konea on the north. Hokulani was built first and as of this writing (fall 2014), the vacant lot next door remains yet to constructed but speculated to be built out soon by the Westin.
Click on the links below to view the complete site plans for both towers and all floor plans for Konea and Hokulani towers:
Map
The map below is a GENERAL guideline and is for orientation only - in a property such as Honua Kai floor plates can vary from floor to floor, as such a general guideline may be useful for orientation and navigation purposes but it is not meant to be all inclusive.


Hokulani Tower
The Hokulani tower was the first to be built and offered for sale. It is a U-shaped structure with odd numbered units being inner courtyard and even-numbered being outside perimeter. It is a tan-colored building and has the 'main' lobby. On the first level is the ever-popular Aina Market, featuring high-end products such as pastries, coffees, beverages, and more. The on-site sales office is located on the ground level - contact us to make arrangements to view both developer units and resales (remember, being represented by a Realtor member of our team does not incur further costs yet assures your interests are protected at all times). At 8:30 each morning, the koi fish pond in front of the Hokulani tower is host to a family favorite, the fish feeding ritual. With underground parking and valet parking, Hokulani owners and guests enjoy convenience and security. Being closest to Duke's and anchored by the largest pool on the premises, Hokulani is typically 'busier' and what some may consider more family-oriented. Access to Lower Honoapiilani is convenient and there is a beach access walkway on the southern edge of the tower. Interestingly enough, the '13' stack in the Hokulani tower is the ONLY stack of 1 bedroom units in all of Honua Kai which face the courtyard.
Konea Tower
The newer of the two, Konea towers is known as the 'quieter' of the two structures and has a higher appeal to adults than its counterpart, the family-friendly Hokulani. The lobby of Konea is very welcoming and open, with the courtyard anchored by a picturesque fire pit (see it at night, it is simply phenomenal). On the ground level, one can find the Hoola Spa (which now offers in-room services), the fitness center, and the front desk. Owners and guest meander through the central pathway to the lazy river pool or conveniently walk towards the activities hut. Konea has an underground garage but some criticize its tight turns and narrow lanes. There is a parking area for the exclusive use of the 3 bedroom villa owners and additional storage for kayaks, surfboards, etc. (larger water activity toys not easily accommodated inside units). The AOAO recently purchased the remaining commercial space and there is speculation that it will lease the space to a restaurant - long believed to be a high-end sushi bar. The slide is in front of the 01/02 stacks of Konea, on its southern front edge, and it is opened until 5pm. There is a public parking lot and washroom to the north of Konea, which allows convenient public access to the beach, Honua Kai on-site amenities and the Kaanapali Beach walkway.
Statistics
Below are pertinent charts, updated in real time, regarding key metrics of sales at Honua Kai. To discuss in greater detail and/or to obtain value opinion on a specific unit, contact us.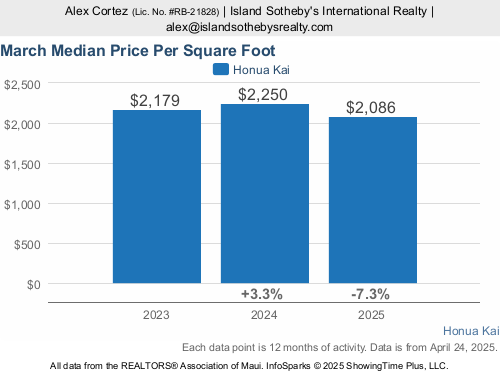 Frequently Asked Questions
What included in the maintenance fees?
The Homeowners Association Fees cover water, refuse, contribution to reserves, insurance, sewer, maintenance/repair of common elements (elevators, parking garage, pools, fitness center, bbq areas, etc.), basic cable, landscaping, pest control, and HOA management. For information regarding the current fees, contact us.
How much are property taxes?
For owners who use their unit as short-term vacation rental, the property tax rate is $11.00 per $1K of assessed value - this is effective for the 2019-2020 Fiscal Year and it is subject to change in upcoming years. Contact us for the latest information.
What are my options if I want to rent out my Honua Kai condo?
There is an on-site management program that is quite popular and in recent years has adjusted their commission structure to be more competitive with other vendors. However, there are a number of reputable off-site property managers who have proven to be quite successful in managing units within Honua Kai while offering a larger profit to owners. Contact us for more information on recommended vendors.
What are the rental rates for these condos?
There are a number of factors that directly affect the rental rate, such as the size of the unit, location within the complex, view corridors, floor level (with many families preferring the convenience of being ground-level) and time of year (with the Xmas and NYE holidays commanding by far the highest rates). Through a perusal of rental sites, one will note that rates can vary from the low $200's to well over $2K per night.
Where are Honua Kai owners from?
Up to a large extent, owners are from the feeder markets on the West Coast - San Francisco, Seattle, LA, Portland. Many of the original owners were Canadians, due to the strength of the CAD at the time, but many have elected to sell with the swing in the currency exchange. There are other pockets of ownership, such as the Midwest and East Coast, but much less so than the West Coast. And lastly, local Hawaii owners continue to put their trust in the long-term strength of the Honua Kai micro-market. For specifics, contact us.
Is parking included?
Each Honua Kai unit includes the right for each owner to use an unassigned parking stall. Owners of a 3-bedroom residence enjoy the benefit of reserved parking in the underground garage. Parking continues to be an ever-evolving function, specially with new construction projects abound - contact us to confirm latest information.
How is electricity paid?
Each unit is sub-metered and the AOAO bills each unit separately based on its usage. Built with energy-efficient as one of the founding pillars, these units consume less energy than comparably sized condos in other properties, such as Kaanapali Alii or The Whaler.
If I choose not to participate in the on-site rental management program, what will be different?
There are many aspects that will be different, but this answer is not all inclusive: Guests of on-site program units may have different check-in procedures, ability to charge items (e.g. Duke's, Activity Center) to the room, enjoy property-wide wireless service, and other features. Contact us for more details.
Is there additional storage available?
Each unit has its own owner's closet, in addition to which there is storage in the P level of each tower, where owners can store large items such as kayaks, surfboards, paddleboards, or similar. There is a fee for this add-on value. The owners of 3 bedroom villas also enjoy a locker in a fully-secured room.
What is all the talk about the Spa?
Hoola Spa opened in 2013 and became a great value-add to the Honua Kai resort. The spa offers Maui's first salt room - the theory is that breathing particles of salt aids in cleansing the lungs from pollution and air-borne bacteria - and additional 5-star services, perfect for unwinding after a long day of water sports or a joyful day of well-deserved relaxation.
Maintenance Fees
Monthly maintenance fees have hovered in the $1.80 per square foot range over the past few year - these fees cover the cost of water, sewer, basic cable television, garbage removal, landscaping, pest control, garage maintenance, elevator maintenance, capital reserves, insurance, pool maintenance, utilities for common areas, property taxes for common areas, and association management. Individual owners are responsible for their own monthly electric, annual property taxes, monthly phone/internet charges, monthly maintenance fees, and insurance for unit contents and liability. For information regarding maintenance fees for Luana Garden Villas, contact us.
Honua Kai News
In an effort to keep our clients interested in Honua Kai up to date, we post regular updates on our Honua Kai blog - including updated monthly market reports. We post news on Honua Kai sales trends, significant sales, developer inventory, and much more. Need to know more about townhouses that were slated to be built? Subscribe to our news feed and you'll know the minute any news are updated. Honua Kai news live here.
Questions? Contact Us
Since its inception, Honua Kai has been a favorite property due its enviable beachfront location, hotel-level services, superb construction, high-end finishes, and luxury amenities. Thinking of purchasing or selling at Honua Kai? Contact us, we know the property exceedingly well and can answer any questions you may have.
IDX information is provided exclusively for consumers' personal, non-commercial use and may not be used for any purpose other than to identify prospective properties consumers may be interested in purchasing.