Own a piece of history! This is a unique opportunity to purchase a handcrafted Thai style home with ornate scrollwork and carvings throughout on 12.12 acres with city water, power and access to all utilities including cable in one of the most desirable and historic locations in all of Hawaii. Waihee is the valley where Queen Kaahumanu, wife of Kamehameha the Great, was raised. The valley that, in 1790, fed the armies of Kamehameha the Great and Maui King Kalanikupule as they fought in nearby Iao Valley in the fierce Battle of Kepaniwai. Who are The Four Waters of Maui? Within the song that Alice Namakelua wrote, "The Famous Waters," are Waikapu, Wailuku, Waiehu, and Waihe'e. They are streams and, due to the great volume of water flowing from mountain to sea, the lands surrounding them were fertile and rich for cultivation. This land is a tropical fruit lovers paradise, sporting a huge grove of mature mango trees including Hagen, Ah Ping, Rapoza and Thai Mango varieties. Dragonfruit abounds, and Papaya, Bananas and Starfruit grow wild throughout the property. The backyard garden also includes several mature lychee and Jackfruit trees that produce heavy crops annually. The main home is a 3 bedroom, 3 full bath 2584 square foot structure with a great room living room, kitchen and dining area, a basement workshop, laundry and storage area, two finished lofts including one with a balcony that features views of the entire valley to the ocean. Off the great room you and your guests can enjoy a covered lanai with built in bench seating that overlooks the river below. You own the entire road from the highway to your back property line but it is maintained by the county because the water station is also on your property. Power, water and utilities are available not only at your house but also anywhere along the road. Your easement grants have allowed others to build below the main road, but you own all the property above the main road to the ridge. This land has at least five other suitable house sites should you wish to develop one or more them in the future, subject to all county permitting and buyers should conduct their own due diligence on the county process prior to initiating any such projects. Owning the upper right side of the valley from the road to the ridge means no one can ever obstruct your views of the valley, the ocean or both from these sites. Two of the potential homesites are located near the spot where your front property line angles toward the top of the ridge. The lower one has a beautiful old Banyan tree in what would be your back yard. The upper one has a sweeping panorama of the entire valley and ocean in a location that no one could ever obstruct. The other three potential home sites are deep in the valley above the existing home, the water station and just above the mango grove. There is also an existing pavilion in this area that is a great place to picnic, barbeque or entertain larger gatherings of friends away from the main home. This is a unique property that must be seen and walked to fully appreciate why you cannot find anything comparable on the market.
County Water, County Water Meter Ins, Overhead Electricity
Lot Description
Gentle Slope
Date Listed
October 11th, 2023
Description Land Tenure
Fee Simple
Wailuku Statistics
To view all homes for sale, recent sales, maps, floor plans and learn more, visit our
Wailuku Real Estate
page.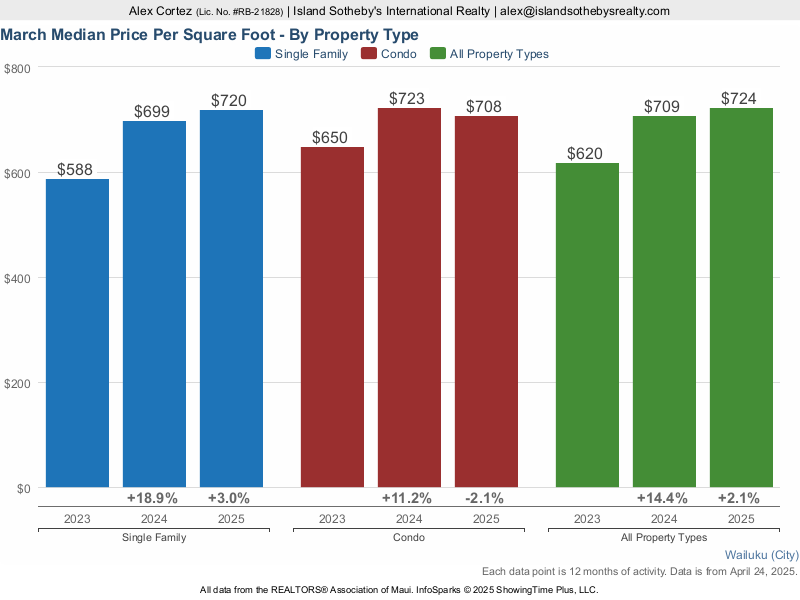 Quick Details
This Single Family Residence is priced at $2,999,000 and located at 204 River Rd, . With 3 Bedrooms and 3.00 Bathrooms, it offers a total of 2104 Square feet. This Residential was built in 2008 and its status is Active. This property is represented by Robin Bartholomew of Kokua Realty LLC, Contact Number 808-298-9637, our team of Realtors can represent you at no additional cost.