Wailea Real Estate Market Update
Posted by Alex Cortez R(B) on Tuesday, August 27th, 2019 at 11:49am.
As 2019 quickly moves through the calendar and over half the year is in the books, we think it's a pertinent time to take a look at the
Wailea real estate
market for a recap of the current position of the market relative to the rest of the Maui market and in a more micro-market level as to how it is performing relative to previous years.
Let's start by looking at how the Wailea market is performing in comparison to all of Maui - keep in mind, we compile our data based on the resort of Wailea only, whereas most others combine Wailea/Makena into one 'area' which skews statistics. Please note that the chart below details year-to-date information. For single-family homes, we can see that there was big increase in median sales price from 2017 to 2018 and that has remained relatively stable coming into this year (-4% decrease), whereas Maui as a whole has seen a moderate increase of 6.3% - arguably this is due to the lack of inventory in the lower, entry-level ($500K'ish). For condominiums, the Wailea condo market is outpacing the rest of Maui, with increases of 8.5% and 6.4% for the past two years in Wailea, compared to 5% and 4.4% respectively.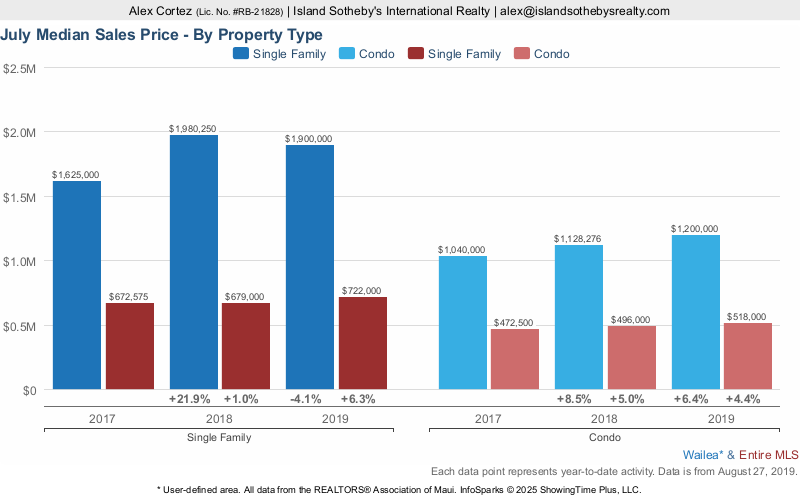 Days on Market (DOM) is another key metric that helps understand how quickly Maui properties are selling. As we can see on the chart below, the higher DOM's of previous year are substantially down this year, in both Wailea and all of Maui, but it's worth noting that for
Wailea condos
there is a slightly higher number than for the rest of market.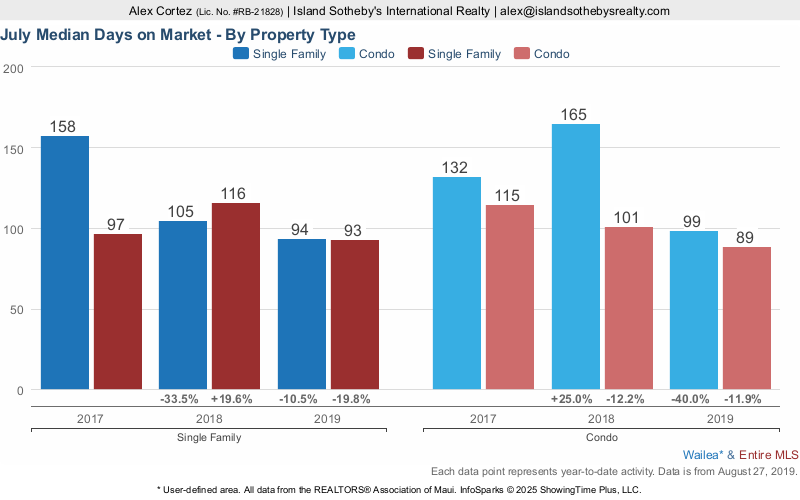 Comparative to the rest of the market, Wailea is being absorbed slightly slower but prices are outpacing Maui as a whole even if just slightly. It's worth pointing out that our markets are VERY specific and conditions at
Wailea Kai
may be considerably different than
Wailea Kialoa
.
Single Family Homes
Homes in Wailea
differ from some of the older subdivisions such as Wailea Kai, which is adorned by some of the most architecturally beautiful homes created by Tim Farrington, to expansive, modern estates in
Maluhia
. Although it may seem overwhelming, there are in essence three tiers: The entry level (think $1-2M's), mid level ($2M-$4M'ish) and the upper level ($5M-$10M) - there could be some exceptions at Maluhia with the beachfront homes, but those are very rare and effectively have not been listed for sale before (reasonable expectation that any of those homes would sell for well over $20M). So with that, let's look at some metrics - for these, we are using rolling twelve months, so 2019 numbers refer to statistics based on August 2018 through July 2019 as the last 12 months.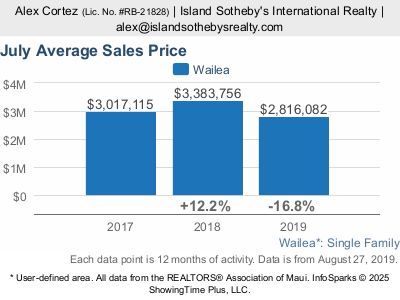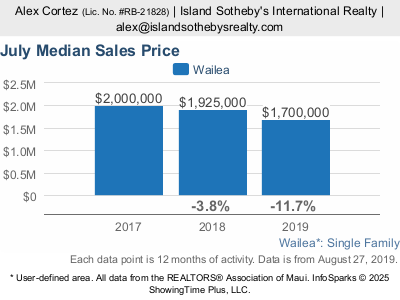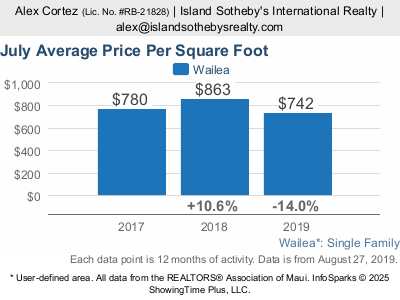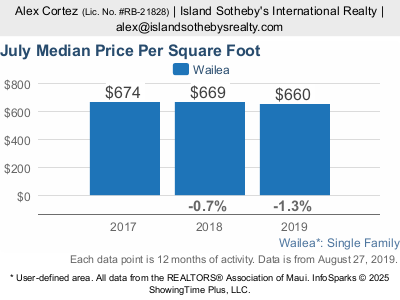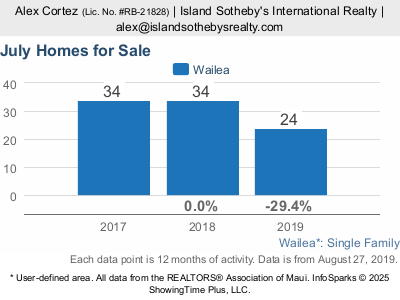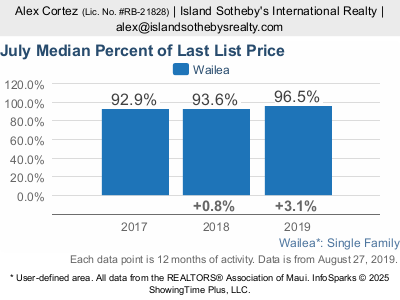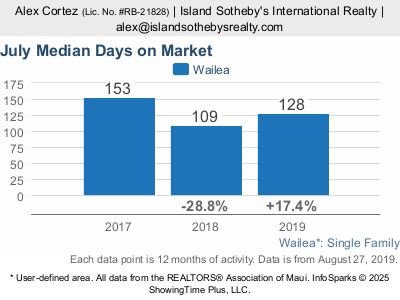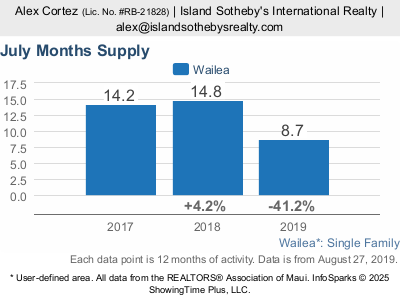 The story that unfolds by reviewing the above data is that the average / median sales prices are down from a year ago, but the median sales price per square foot has been very consistent over the past 3 years. It is interesting to note that the $2M mark is where sales take place - in 2019, a total of 19 sales under $2M, with above only tallying 12 in total. There are significantly less homes for sale than in previous years and that is resulting in Sellers being able to close at a higher list-to-sold ratio. It is worth noting that our listing of
169 W Ikea Moku Place
is among the strongest values among the
Maui luxury real estate
market.
Condominiums
One of the most varied niches of Hawaii Real Estate is the
Wailea condominium
micro-market. Here the variance is even wider than single-family homes, with 'entry level' Grand Champions on the same grouping as luxury properties in the
Wailea Beach Villas
or
Wailea Point
. So with that, let's take a look at data for review.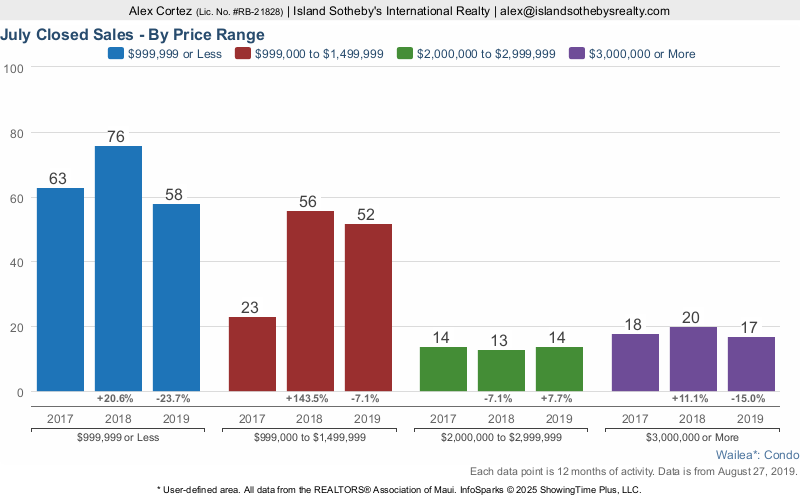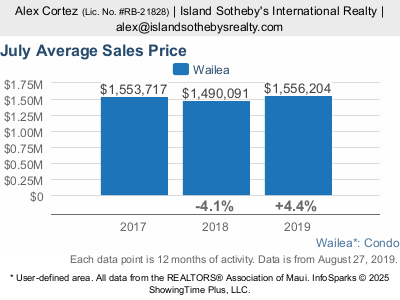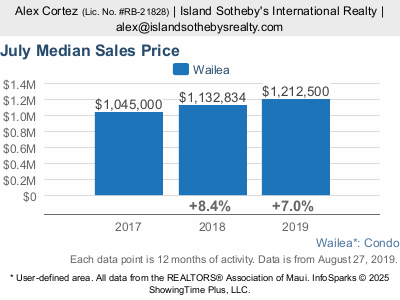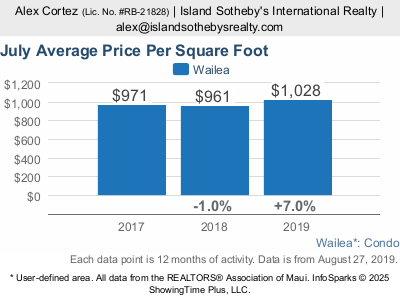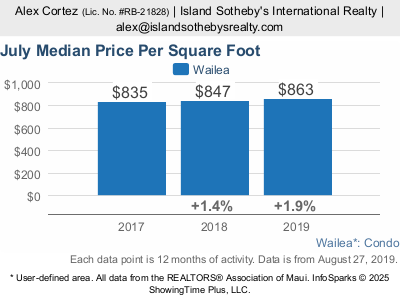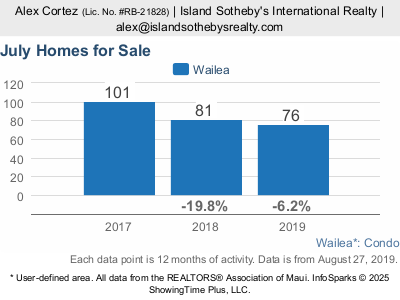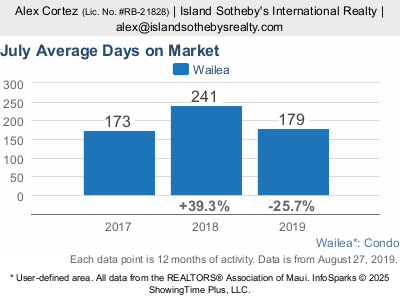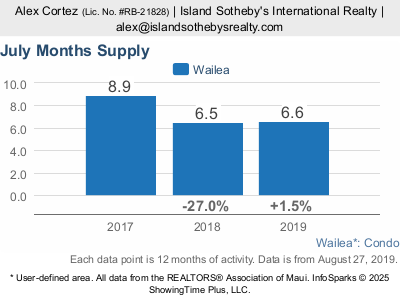 The condominium story differs from the single-family home one within Wailea. The median sales price has climbed steadily over the past 3 years, which can be attributed in part to sales at
Keala O Wailea
maintaining a driving force in the middle of the market, but also in the steady increase in properties such as
Palms at Wailea
. As can be noted and expected, by far the bulk of the sales have been in the sub-$2M range. The median price per square foot has been steadfast while the average has had a spike in the past year. Inventory has decreased significantly over the past 2 years, while the percentage of list-to-sold continues to be among the best in all of Maui, at nearly 98%.
Contact Us
Our team includes leading experts in the Wailea real estate and can speak well in depth in regards to the unique intricacies surrounding the Wailea market. For those interested in discussing further, whether towards making a purchase or putting a property on the market, don't hesitate to reach out. Alex can be reached at 808.385.5034 and Ryan at 808.392.6657, but feel free to fill out the form below and a member of our team will be in touch shortly.
Specializing in Makena and Wailea real estate, Alex Cortez is fully dedicated to representing his clients ethically and diligently. Contact him at 808.385.5034 or Alex@MauiRealEstateSearch.com for more information.
Leave a Comment