Honua Kai Real Estate Market Update August 2019
Posted by Alex Cortez R(B) on Wednesday, August 21st, 2019 at 6:43pm.
As one of our favorite properties, our team keeps a close eye on the
Honua Kai real estate
market in order to best represent our clients. In the past year we have not been posting our market updates but we are getting back on a schedule to do so routinely. So with that, let's start the discussion.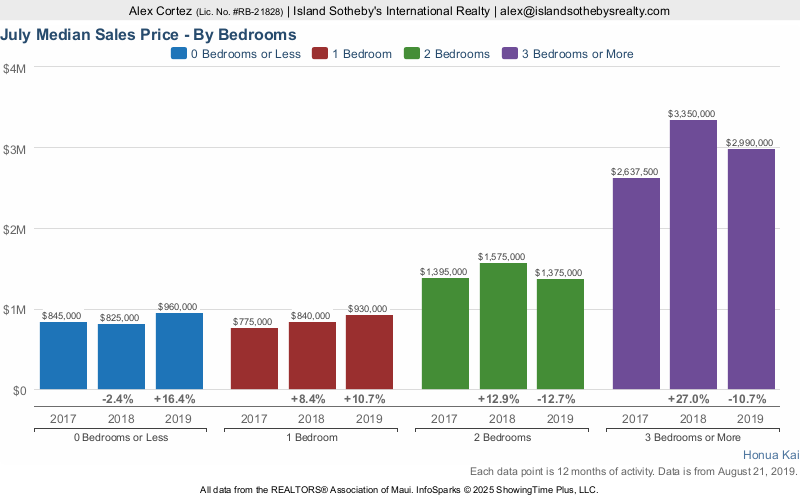 Honua Kai Year to Date
With the introduction of
Luana Garden Villas
, the expectation was that it would take some of the sales for premium 2 bedroom units and 3 bedroom units while impacting profitability of those mountain-facing units on the Konea tower, thereby lowering the absorption rate at Honua Kai. In 2018, there were 40 sales, resulting in 3.33 sales per month, whereas year-to-date there have been 20 sales, at a rate of approximately 2.6 per month - this number may change slightly at the end of the month, it is an approximate for the time being since the current month has not yet ended. The average price per square foot has decreased from $1,313 to $1,275, which is a slight decline but could be affected by last year's sale of Hokulani 601 for a whooping $5.725M.
Now let's look at the market by condominium size to have a more granular understanding.
Studio
Currently there is one Studio on the market for a high mark of $1.3M. Although we completely understand its value proposition as a premium Studio, at over $2,200 per square it may be some time before unit is absorbed. Konea 221 is currently in escrow, while Hokulani 419 is the only Studio sale thus far this year at $957K. That bodes well in comparison to the two sales in 2018, at an average of $979.5K
One Bedroom
Prospective Buyers of one bedroom units have options, with 7 currently on the market at an average listed price of $902K / $1,322 per square foot. Thus far this year there have been 6 sales at an average sold price of $918K / $1,274 per square foot, but it's important to note that a one bedroom + den is included in this subset. That's a significant decrease in sales volume from the 16 units sold last year, at an average of $871K.
Two Bedrooms
Currently there are 8 two bedroom condos on the market, at an average price of $1.883M / $1,467 per square foot while two others are in escrow. A total of 12 sales have recorded so far this year at average sales price of $1.495M / $1,230 per square foot - but contact us to discuss proper context of this data as there are pertinent details to better understand. That bodes very well considering in 2018, there were 16 sales at an average of $1.754M
Three Bedrooms
This is the niche most affected by Luana Garden Villas. As of this writing there are 5 Villas for sale plus two other resales - Hokulani 404 for $2.8M and Konea 302 for $3.749M. It's important to note that the ground-level Hokulani 151 is currently in escrow. The only sale recorded thus far this year is the interior-courtyard Hokulani 325 for $2.395M / $1,496 per square foot. That is a marked decrease over the 5 sales of 2018 at a median of $2.99M. The lack of closed sales in 2019 thus far is more reflective of the pull that Luana Garden Villas has had in drawing interest away from other high-end Honua Kai prospects, many of whom are already owners.
Conclusion
Prices are holding steady across all niches within the Honua Kai real estate market, without any significant movement in terms of fair market value. It is easy to think that prices for two bedroom units are decreasing rapidly but that's a function of the units that are selling - non-premium, garden view units, which coincidentally are arguably among the best values, when they can be found. The lack of absorption among the 3 bedroom units is due Luana Garden Villas drawing all the attention and we can reasonably expect conditions to improve significantly upon those developer sales. For those interested in purchasing a Luana Garden Villa, contact us to discuss in much greater detail. Nonetheless, we look forward to the Honua Kai micro-market continuing as one of the most active anywhere in the Hawaii luxury real estate market. And now, to conclude our summary, some pertinent, easy-to-read charts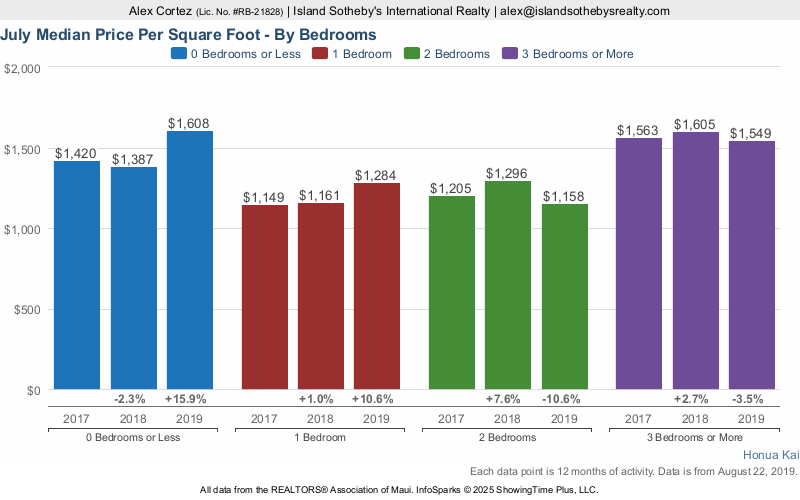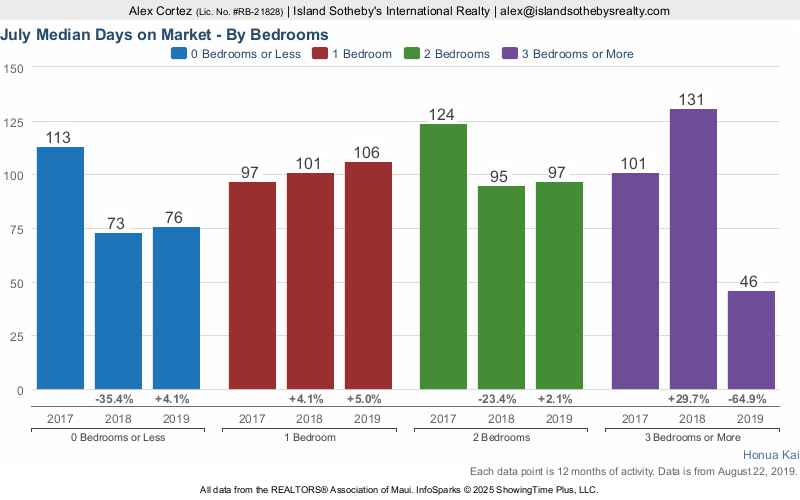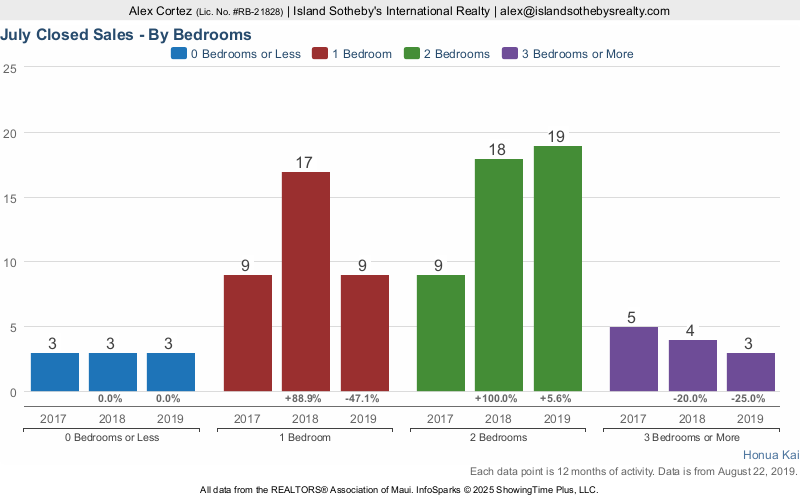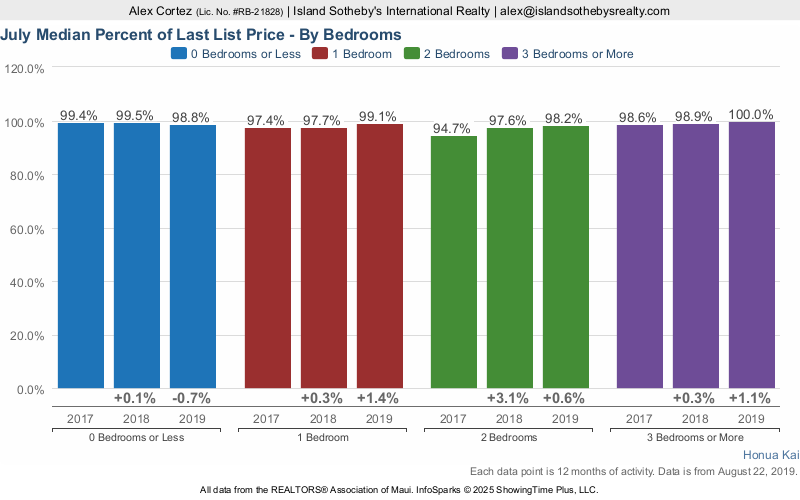 Specializing in Makena and Wailea real estate, Alex Cortez is fully dedicated to representing his clients ethically and diligently. Contact him at 808.385.5034 or Alex@MauiRealEstateSearch.com for more information.
Leave a Comment